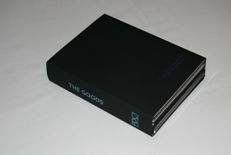 Today we got The Goods, almost 30GB of geek stuff. It's a box containing 6 DVD's:
Windows Vista Beta 1 (incl. SDK)
Visual Studio 2005 Team System Beta 2
SQL Server 2005 June CTP, Virtual PC 2004, Virtual Server 2005 R2 Beta, Windows Server 2003 R2 RC0
WinFX plus other stuff such as whitepapers
Windows Vista CTP: PDC05
Windows Server Codename "Longhorn" CTP: PDC05
But wait, something missing here. There are only 5 discs in my box, no Longhorn Server. I think I have to object that tomorrow.
Anyway, lots of cool stuff to play aroud with.
Update: I was informed that we'll get the sixth disc tomorrow. Sorry for any inconveniences.
Tags: PDC05